Cisco Meraki Systems Manager || Cloud-Based Enterprise Mobility Management
Quick Overview
Overview: Meraki Systems Manager provides cloud-based over-the-air centralized management, diagnostics, monitoring, and security of the mobile devices managed by your organization. Manage distributed deployments of all of your devices with...
Overview:
Meraki Systems Manager provides cloud-based over-the-air centralized management, diagnostics, monitoring, and security of the mobile devices managed by your organization. Manage distributed deployments of all of your devices with Systems Manager — without an on-site appliance. Managed devices connect securely to Meraki's cloud, enabling you to locate devices, deploy software and apps, deliver content, enforce security policies, and monitor all your devices through an intuitive and powerful web-based dashboard.
Centralized Cloud Management
Seamlessly manage and control thousands of iOS and Android devices, Macs, and PCs via Meraki's secure, browser-based dashboard. After enrollment into Systems Manager, managed devices automatically pull security policies and settings from the cloud. Systems Manager works on any network — even if the devices you are managing are on the road, at a café, or used at home. New features, updates, and enhancements are delivered effortlessly to the dashboard from the cloud.
Meraki's cloud architecture provides the industry's only end-to-end solution which unifies WAN, LAN, wireless LAN, and mobile devices management under a single dashboard. Gain complete visibility and control from the top of the network to the edge using MX Security Appliances, MS Switches, and MR Wireless LAN, to the client devices on the network with Systems Manager. The intuitiveness of the dashboard enables IT professionals to configure and deploy in just minutes, without specialized training or dedicated staff.
Pre-enroll devices or dynamically add users as they join your network. Deploy wireless and VPN connectivity settings, push apps and content, or restrict usage—based on user groups.
Provision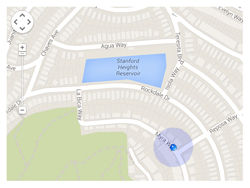 Monitor
Locate and track laptops and mobile devices anywhere in the world. Get real time visibility on device health, security posture, and software and hardware inventory for your entire fleet of devices.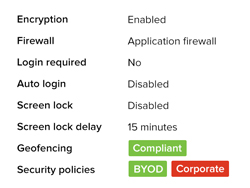 Secure
Ensure security for your organization from devices all the way through to network policies. Protect devices and their data with encryption enforcement, enterprise remote wipe, and integrated network access control.
Network, Meet Device
Every user is unique. Every device, a bit different. Systems Manager keeps the network in the loop about constantly changing devices, automatically tracking device posture and adjusting security policies to match.Gone are the days of manual user-to-device assignment. Tie people to their devices by integrating enrollment with Active Directory. Scale your deployment to thousands and eliminate unknown devices in your environment.
Contain Your Data
Separate enterprise data from personal data
Don't mess with complicated SDKs or modifying application source code. Systems Manager Enterprise provides secure containerization using native OS tools, allowing secure data sharing among apps without complexity. Whitelist secure applications and blacklist unsupported ones to ensure only approved apps are used, and enable VPN on a per-app basis.
Specifications:
Supported Platforms
Apple iPad, iPod Touch, iPhone, Apple TV (iOS 5 or higher)
Android (2.2 or higher)
Mac OS X (10.5, 10.6, 10.7, 10.8, 10.9, 10.10)
Windows Phone 8.1 (Enterprise only), Windows Pro 8.1, 8, 7, Vista, XP (Service Pack 3 or higher), Microsoft Server 2008, R2, 2012
Management
Managed via the web using Meraki's secure browser based dashboard
Centralized administration of managed devices
Organization level two-factor authentication
Role-based administration
Inventory data export to CSV
Remote command line
Administrative event log and activity log
Automatic alerts for installed software, geofencing, enrollment, and dynamic security reporting
Copy profiles across different networks
Enterprise wipe and dissolving management profiles (Enterprise only)
Security
Device location using device WiFi, IP address, and GPS data
Containerization, separation of Managed and unmanaged data (via Open-in with iOS)
Unenrollment monitoring and notification
Antivirus, antispyware, firewall, disk encryption, passcode and password, screenlock timeout , and jailbreak and root detection
Restrict access to iCloud (iOS)
Restrict users to accept untrusted TLS certificates (iOS)
Force encrypted backup (iOS) and encrypted storage (Android)
Global HTTP Proxy (iOS)
Enforce passcode policies and failed entry device wipe policy (iOS and Android)
Scan client device for Systems Manager before allowing network access (NAC)* (iOS, Android, Windows, and Mac)
Simple Certificate Enrollment Protocol (SCEP)
Customer Certificate Signing for certificate provisioning (Enterprise only)
Access rights to limit Dashboard control (e.g. cannot erase BYOD devices iOS and Mac) (Enterprise only)
Dynamic profile management - Security compliance, Geofence management, Time based (Enterprise only)
Cisco ISE MDM API Integration (Enterprise only)
Software and App Management
Inventory of installed software and apps
Custom deployment of software and App Store apps
Integration with Apple App Store and Apple's Volume Purchase Program
Software installation via .msi and .pkg (Windows and Mac)
Software uninstallation (Windows and Mac)
Custom uninstallation of iOS and Android apps
Restrict app installation
Restrict in-app purchase
Unauthorized software and app installation monitoring and notification
Install Enterprise Apps
Content Management
Custom deployment of files, documents, apps (iOS and Android)
Update and deploy the latest version to devices (iOS and Android)
Managed and distribute app licenses (iOS with VPP)
Deploy iBook licenses
Device Restrictions
Restrict use of camera (iOS and Android)
FaceTime, Siri, iTunes Store, multiplayer gaming (iOS)
Restrict content consumption (YouTube, explicit music & podcasts, content rated movies, TV shows, and apps) (iOS)
Force encrypted backup (iOS) and encrypted storage (Android)
Enforce passcode policies and failed entry device wipe policy (iOS and Android)
Single App mode (iOS and Android – Samsung KNOX)
Autonomous Single App mode (iOS) (Enterprise only)
Automatic and whitelisted content filter (iOS)
Restrict use of AirDrop (iOS)
Restrict changes to cellular data usage for apps ( iOS)
Toggle Voice and Data Roaming Settings (iOS)
Restrict which Airplay devices are listed (iOS)
Documentation:
Download the Cisco Meraki Systems Manager Datasheet (PDF).
Purchasing & Delivery
Before You Buy
To avoid delivery day disappointments, measure the area you plan to place your new furniture in, as well as the furniture you have selected to purchase, before placing your order. Also measure any doorways (height and width) through which the furniture must pass to get to its final position in your home. Identify any delivery obstacles – is there enough ceiling clearance? Will the furniture clear the stairway or elevator? Can the piece be maneuvered around any right angles? Because of our commitment to providing you with outstanding customer service.
Delivery
Always free shipping
Warranty Information
LIMITED WARRANTIES
Limited Warranties are non-transferable. The following Limited Warranties are given to the original retail purchaser of the following Ashley Furniture Industries, Inc.Products:
Frames Used In Upholstered and Leather Products
Limited Lifetime Warranty
A Limited Lifetime Warranty applies to all frames used in sofas, couches, love seats, upholstered chairs, ottomans, sectionals, and sleepers. Ashley Furniture Industries,Inc. warrants these components to you, the original retail purchaser, to be free from material manufacturing defects.